A strategic planning training for representatives of civil society organizations, people living with HIV and vulnerable to HIV groups was held from 3rd to 6th of September in the village of Leordoaia, Calarasi district, at the recreation center "Festival." The training was conducted by: Sergey Ostaf, the director of the Resource Center for Human Rights (CReDO), as well as a special guest from Kiev, Gennady Roshchupkin, an international expert on community organizations management.
During four days, trainers and participants were actively involved in the bilateral work, which aims to: improve the knowledge on what an organization is and how it develops; understand and learn how to use the basic strategic planning tools in organizations. 27 people took part in the training. All of them are representatives of community organizations from 7 cities of Moldova: Chisinau, Baltsy, Comrat, Cahul, Tiraspol, Bendery and Rybnitsa.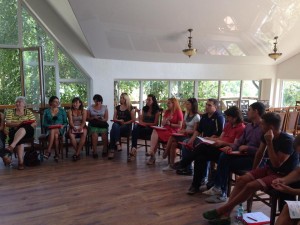 And here is what Gennady Roshchupkin said about the training: "I think the training was good, in the sense that the participants were interested in things that we discussed. In addition, the training itself was more like a working meeting and I prefer this format. "According to Gennady, strategic planning is important because it helps make the work of NGOs more stable. This is possible because in the scheduled plan are calculated the risks that may arise in the work. "On the other hand," adds Gennady, "A strategic plan can be done in a good way only in an organization that has passed certain steps of its development. For example, only when the issues of leadership and the main objectives of the team work within an organization are defined. Do not forget that strategic planning, as well as a spoon from a well-known saying, would be appropriate only if it is necessary. Otherwise, spent time and effort will not be justified. "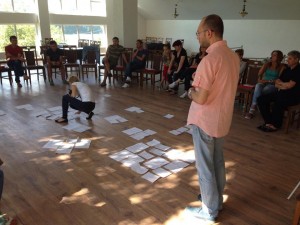 We hope that the gained knowledge will be useful in practice for all those who participated in the training.
The strategic planning training was organized by NGO "Initiativa Pozitiva", together with the Centre «PAS» and UNFPA, within the projects: "The involvement of civil society and key vulnerable groups in the national response to HIV / AIDS", the program "Reducing the burden of HIV infection in the Republic of Moldova "funded by the Global Fund to Fight AIDS, Tuberculosis and Malaria – the main recipient – Centre PAS, sub-recipient NGO "Initiativa Pozitiva", as well as "Improving reproductive health services for people living with HIV and psychoactive substance users", funded by UNFPA.
Soon on our website we will publish an interesting interview with Gennady Roshchupkin. Stay tuned.